The Log Books of the S. S. United States
---
The Historic Logbook from the 1952 Builders Trial
"Trial Copy 1952"
Log Book for Stability, Draft and Trim
This is the actual logbook from the official trials, with penciled entries.
Own a piece of history
There may be no other item of such significance from the trials in existence.
The fuel consumption and other details of the S. S. United States were tightly guarded secrets even after her service life. You will find the secrets revealed here!
Measures 22" x 15"

Cover

Page1

Trial Log Aft Page
"Voyage No: Official Trial"

Trial Log Forward Page
"Voyage No: Official Trial"

---
The Official Logbook from Voyage 114 and Drydocking
This historic document details sailing times, course positions, who is in command, inspections and reports, weather, ship handling, fuel oil consumption, port activities, fire drills, equipment tests, watch reports, and more.
All entries are typed in black and red ribbon
This log also reveals the fascinating story of a stowaway caught onboard the S. S. United States while at sea!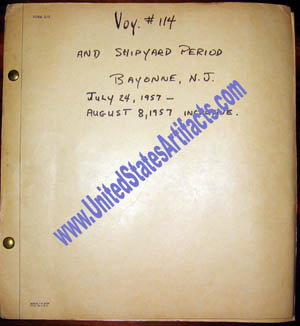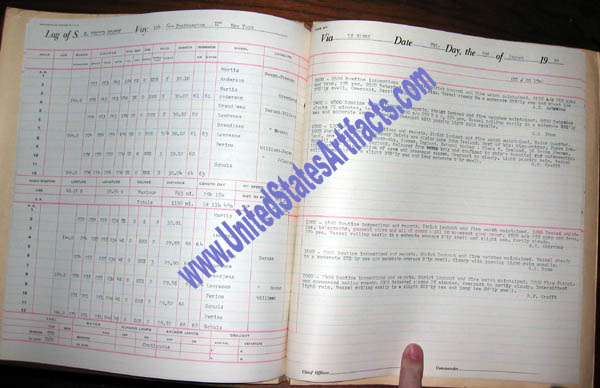 ---
More logbooks to be listed soon
These items and many more will be auctioned on Ebay this year.
Don't miss this once-in-a-lifetime opportunity to own this piece of history.
Inquiries and reciprocal related links welcomed.
| HOME | Blueprints | Hand Drawn Deck Plans | Other Items | Rare Items |
www.UnitedStatesArtifacts.com
Artifacts and Memorabilia from the Historic Ocean Liner S.S. United States
Copyright © 2007 United States Artifacts All rights reserved
All contents and photographs are copyrighted and may not be copied, modified or used in any way without the written permission of United States Artifacts